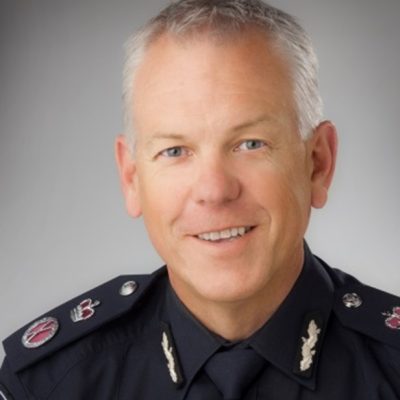 Grant Stevens APM LEM, as Commissioner of Police, leads the South Australia Police, an agency responsible for the safety and security of the state, serving 1.8 million South Australians, across an area of over one million square kilometres.
He is responsible for a budget of over $1 Billion and leads more than 6,000 police officers and staff in achieving the SAPOL 2030 vision of Safer Communities. 
Commissioner Stevens has developed and delivered many of SAPOL's operational and strategic policing and business reform initiatives, including the most significant restructure to SAPOL's frontline policing model.  He has also led wide reaching cultural reform, focusing on achieving gender equity and eliminating discrimination and harassment in the workplace.
Commissioner Stevens is committed to technological transformation in front line policing and service delivery, and supporting legislative reform to improve public safety. He has well established credentials in state and national leadership roles addressing organised crime, terrorism, cybercrime, family and domestic violence, sexual crime (including child exploitation), and road safety.  He is a member in national policing boards and is the Chair of the Australia New Zealand Policing Advisory Agency.
During 2020 and 2021 in the extra-ordinary times of COVID-19, Grant had a significant leadership role as the State Co-ordinator under the Emergency Management Act 2004.  This saw him as the principle decision maker regarding the management of the COVID-19 response for the State for over two years.  This additional responsibility was undertaken while continuing to lead SAPOL in providing effective police services across the state.
As a community leader, Commissioner Stevens is a volunteer Board member on the Breakthrough Mental Health Research Foundation and Operation Flinders Foundation, is the patron of South Australia Police Legacy and the South Australia Police Historical Society; and has a long-standing commitment to supporting cancer research, prevention and treatment.