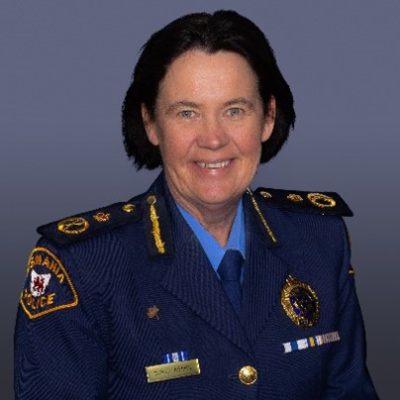 Donna Adams has been a police officer for 35 years and commenced in the role as Commissioner of Police and Secretary of the Department of Police, Fire and Emergency Management on the 11 October 2022.
Most recently, Donna was Deputy Commissioner of Police for 15 months and prior to that, Deputy Secretary of the Department for 6 years.
Donna has been recognised with an Australian Police Medal for Distinguished Service and the Tasmania Police Service Medal for diligent and ethical service. Donna received a Commissioner's Commendation for her work in the aftermath of the devastating 1996 Port Arthur massacre, and has been recognised by the Australasian Council of Women in Policing as an outstanding investigator.
In 2014, Donna was the Tasmanian Telstra Business Woman of the Year and went on to become a joint National winner of the Telstra Business Women Innovation Award.
Donna in her role as Deputy Secretary of the Department of Police, Fire and Emergency Management played a key role in leading the integration of separate policing and fire business and corporate services into a combined business department.
In 2019, Donna was appointed by the Head of the State Service as the Lead Negotiator to resolve a long-standing pay dispute involving ten unions.
In 2020, Donna was seconded to the Department of Health as the Emergency Operations Commander for Tasmania Health Services in response to the COVID-19 pandemic. Donna has a Graduate Certificate in Police Studies (2002), Graduate Certificate in Applied Management (2007) and a Master in Policing (2011).